A Phoenix favorite is coming to South Tempe!
After the sudden closure of Tempe Public Market Cafe in the middle of January, Tempe residents wondered what would become of the restaurant space. I've got some great news for those following the story; popular restaurant concept Postino will open its latest Valley location in South Tempe in the former Tempe Public Market Cafe space at 8749 S. Rural Road.
Known best for serving lunch, dinner and weekend brunch, Postino also offers a Bottle & Board featuring bruschetta and a bottle of wine for just $25 on Monday and Tuesday evenings. Perhaps more popular than the food, however, is the drink list, which includes $5 glasses of wine and pitchers of beer every day from open until 5 p.m. The wine list includes 30 options by the glass and rotates regularly. Weekend brunch features $5 mimosas.
Postino struck an agreement to lease the building from the Tempe Public Market's owner Dave Chamberlin, and plans to begin construction on the project in February with a launch date expected summer 2020. Lauren Bailey, co-founder and CEO Upward Projects, said the company has looked at opening a location in that area for a while and has received a lot of requests from residents of South Tempe. Bailey cited concerns over finding the right space and opportunity for such a venue, but after having met with Tempe Mayor Mark Mitchell several times regarding the project, she is confident that "it really checks a lot of boxes" for Postino.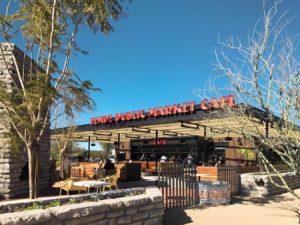 Upward Projects, the company behind Postino and a handful of other restaurant concepts in metro Phoenix, is known for opening restaurants in existing, often older, buildings. For example, the original Postino wine bar located in the Arcadia neighborhood took over a 1940s brick post office — the word "postino" means postman in Italian. Bailey says the company is still determining the extent of the changes they'll make to the space, which opened as Tempe Public Market Cafe in January 2018 and underwent a costly renovation less than a year ago.
The newest Postino location joins six others throughout metro Phoenix and is expected to open in mid-2020, according to a press release. Including a soon-to-open location in Tucson and those in Colorado and Texas, there are 11 Postino restaurants and more planned for 2020, Bailey says.