Phoenix Market Update – January 2020
Supply continues to dwindle in spite of the historically strong new listing counts at the start of the new year. At the beginning of January, we expressed how dire the situation was in terms of lack of housing for sale. This month we can report that something abnormal has happened: supply actually fell 1.4% from Jan. 1 to Feb. 1 (down 35% from Feb 1, 2019).
Here are the current market stats for February 1, 2020 compared with January 1, 2020 for the entire Phoenix Metropolitan Area:
Active Listings: 11,974 vs. 12,141 last month – down 1.4%
Pending/Under Contract: 5,969 v.s 4,662 last month – up 28%
Monthly Sales: 5,467 vs. 7,789 last month – down 17.8%
Monthly Avg. Sales $ per Sq. Ft.: $182.20 vs. $179.85 last month – up 1.3%
Monthly Median Sales $: $289,900 vs. $289,500 last month – up 0.1%
Want to know more about a specific Zip Code or City?
Looking at data from the past 20 years, we've consistently seen that if the number of active listings does not rise during January, chances are minimal that active listings will increase during the first half of the year. In other words, what you currently see on the MLS is likely to be a larger selection than will be seen until the end of summer, a sobering thought for buyers looking to purchase.
Saving graces for buyers are a lax policy out of the Federal Reserve, and easing in FHA mortgage requirements including an increase in the Maximum FHA Loan Limit to $331,760 (up from $314,827 in 2019), but these are much solace if there aren't any homes to purchase.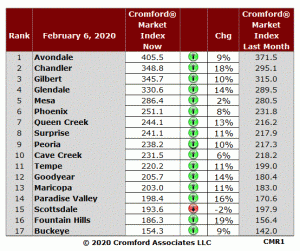 A quick look around the valley shows us just how deeply pressed the market is for listing. The figures below are for single-family homes not under contract:
Phoenix – 1,609 – the lowest total since 2012
Scottsdale – 1,221 – the lowest total since 2005
Avondale – 66 – the lowest total since 2012
Glendale – 235 – the lowest total since 2005
Tempe – 102 – the lowest total since 2012
Goodyear – 274 – the lowest total since 2013
The Phoenix Metro Area is now home to more than 85,000 high-tech workers, surpassing Chicago and Los Angeles in terms of tech employment, while also providing better affordability to both companies and employees. These new high-tech jobs are just a part of the 12% employment growth seen in Phoenix over the last 5 years, 60% of which pay above the median household income. We expect this trend to continue and be a boon to the continued growth of both the economy and housing market in Arizona.
Instant Home Valuation | How's The Market? | Property Search
We are constantly looking for new trends and data to give our clients an edge when it comes to buying or selling their next home. If you or someone you know is thinking about making a move and would like help navigating this market, we would like to extend the invitation to talk to our team. We hope you've found this market update useful, and look forward to the opportunity to work with you in the future.