April is upon us and we've had time to review what a wild March we had. The economic impacts from the coronavirus and related social distancing measures continue to unfold both nationally and here in Arizona. Employment data continues to sour, mortgage origination and loan servicing industries are in turmoil, adding stress to mortgage rates. and an incredibly hot housing market has begun to cool. We'll continue to bring you more from the frontlines of the real estate industry in Arizona as the situation regarding coronavirus remains rapidly evolving. If you have any questions or if you would like to discuss the situation the coronavirus presents for the AZ housing market, please don't hesitate to give me a call directly.
Unemployment Insurance Claims – Arizona posted over 117,000 new filings for unemployment as of 3/28, just a fraction of the 10 million new filings for unemployment in the United States in the last two weeks. This week's data has yet to be released, but we expect Arizona's figures to top 225,000 new unemployment claims, which would raise the level of unemployment to approximately 6%. The Arizona Dep. of Economic Security is scrambling to keep up with the surge in new claims. more from azfamily.com
US NonFarm Payrolls – the broadest employment metric in the United States posted a loss of 701,000 jobs, bringing the national unemployment rate up to 4.4%. Initial estimates indicated that national unemployment could top out around 8-10%, however, revisions to that number are now pointing to unemployment figures closer to 15-18% nationally. more from bloomberg.com
Phoenix Slips on Case-Shiller Rankings – Phoenix slipped from first to sixth place in the monthly home price gains, while still maintaining monthly price grains roughly ten times better than the national average of 0.02%. On an annual basis, Phoenix still leads the country by a wide margin, boasting a 6.9% price gain year over year. Other west coast markets such as Seattle and San Diego rebounded impressively over the last several months, to join Phoenix and Tampa in the Top 4. more from pprnewswire.com
Here are the current market stats for April 2, 2020 compared with March 20, 2020 for the entire Phoenix Metropolitan Area:
Active Listings: 13,450 vs. 11,168 last month – up 20.4%
Pending/Under Contract: 6,040 vs. 7,403 last month – down 18.4%
Monthly Sales: 9,117 vs. 8,629 last month – up 5.6%
Monthly Avg. Sales $ per Sq. Ft.: $186.44 vs. $185.85 last month – up 0.32%
Monthly Median Sales Price: $302,000 vs. $300,000 last month – up 0.67%
Days on Market: 56 days vs. 60 days last month – down 6.7%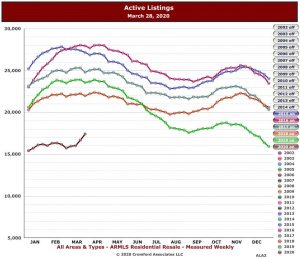 Breaking Down the Local Data
For Sale Listings Up 20% – Active Listings on the Arizona Regional MLS have risen more than 20% from 11,168 to 13,450, a number not seen since early December 2019. We believe there are a few reasons for this:
Back-On-Market Listings: due to contract cancellations, roughly 900 listings have returned to the market in the past week, either from canceled contracts that buyers have walked away from voluntarily, or buyers that have failed employment verification at close of escrow.
VRBO's listed for sale: With the air sucked out of the tourism industry just in time for Spring Training, many AirBnB and VRBO owners are faced with potential months without tenants. We have seen additional evidence of this among Rental Listings as well, and can deduce many of the new Rental Listings are the result of empty vacation rentals and owners desperate for any sort of cash flow.
Was that the top? Undeniably, there has been speculation that a short-medium term "top" is in for real estate and other types of assets, and owners are looking to cash in their properties. We don't believe this is the case, with the Federal Reserve and US Treasury openly dedicating themselves to the stability of not only stock markets but housing markets.
Cash Flow Issues: Some elderly property owners, or those who have been relying on valuations and dividends from the stock market to support their lifestyles, are likely to be forced to make some hard decisions. Many are seeing some financial stress with recent account drawdowns and dividend suspensions, and some may be forced to liquidate their secondary real estate or downsize as a result.
Pending Down, Closed Up – Monthly Closed Sales increased across the market, up about 5.6%, while Pending Sales are down more than 18%. Closed Sales are a lagging indicator of market activity, while Pending Sales are a leading indicator, so not only do we expect the supply of homes to increase until June, we also expect sales activity to slow. Considering Pending Sales nationally are down 40%, Arizona is faring far better than most major real estate markets.

New Construction – The Census Bureau has published February's single-family and multi-family building permits figures. They paint a picture of a construction industry running full pelt to build homes to meet demand.

Single Family Permits: 2,350, up from 1,830 in February 2019.
Multi-Family Permits: 1,623, up from 237 in February 2019
The annual rate for single-family permits stands at 25,948 units while the multi-family annual rate is 13,914. The latter is by far the largest we have ever recorded.
$/Square Foot for Major Cities in Phoenix
Avondale – $136.07/ft vs. $135.62/ft last month – up 0.33%
Buckeye – $142.65/ft vs. $140.54/ft last month – up 1.55%
Chandler – $192.03/ft vs. $185.75/ft last month – up 3.38%
Fountain Hills – $245.55/ft vs. $239.79/ft last month – up 2.4%
Gilbert – $178.66/ft vs. $177.66/ft last month – up 0.56%
Glendale – $160.04/ft vs. $157.29/ft last month – up 1.75%
Goodyear – $154.02/ft vs. $153.20/ft last month – up 0.54%
Mesa – $175.87/ft vs. $172.71/ft last month – up 1.83%
Paradise Valley – $442.45/ft vs. $450.38/ft last month – down 1.76%
Peoria – $168.60/ft vs. $169.28/ft last month – down 0.4%
Phoenix – $194.28/ft vs. $191.54/ft last month – up 1.43%
Queen Creek – $149.44/ft vs. $145.58/ft last month – up 2.65%
Scottsdale – $297.36/ft vs. $291.07/ft last month – up 2.16%
Surprise – $151.61/ft vs. $146.94/ft last month – up 3.18%
Tempe – $201.02/ft vs. $196.48/ft last month – up 2.31%
Unintended consequences from actions taken by the Federal Reserve are making life very tricky for mortgage lenders and mortgage service companies. We are already seeing many of them struggle and expect to see some defaults and bankruptcies if the situation worsens, and home loans may become much more difficult to obtain. We've already seen a sharp fall in demand for housing nationally, and this has the potential to make transactions even harder.
So what happened? It is quite complicated, but we will try to break it down here:
Loan Servicing Companies are seeing their legacy loan portfolios dwindle due to refinancing activity, especially among loans originated in the last 3 years thanks to a drop in mortgage rates. Loan Servicers typically pay 1% up-front for the right to service the loan, and receive about 0.30% as an annual payment for doing so. Some quick math tells us that 3 years is the break-even point for loan servicing, and loans refinanced in less than 3 years are a loss for the servicer..
Leverage – some loan service companies finance up to half of the 1% they pay for the right to service loans. Due to accelerated prepayments and uncertainty of borrowers making future payments, the value of loan servicing has been slashed in half overnight, and thusly the value of the 1% paid up-front was slashed in half as well. To make matters worse, the amount lenders can lend is based on a multiple of their net worth, which has taken a severe hit along with the decrease in the value of servicing the portoflio asset. Many loan servicing companies are now facing margin calls and must come up with additional cash, some to the tune of tens of millions of dollars.
Job losses due to COVID-19 countermeasures mean far fewer new home loans are being created. For loans that have been recently created, this also means that loan servicing companies may not receive the monthly payments they are expecting. The loan servicer remains responsible for delivering the payment to the end-buyer of the loan whether or not they have received payment from the borrower. A few borrowers missing payments is fine thanks to large servicing portfolios and cash cushions, but a large portion of a portfolio experiencing delinquencies can quickly compromise a loan servicer.
Mortgage Forbearance granted by the Federal Government to impacted borrowers has created a crisis for mortgage originators. As a result of legislation following the Financial Crisis, loans that are delinquent on This applies even if they have not yet made the first payment on the loan. This makes the loan a disaster – the lender cannot sell a loan which is delinquent on the first payment date. They must hold on to the loan which ties up their available credit.
Record numbers of rate locks were broken as borrowers banked on rates falling even further due to the reductionf of the Fed Funds Rate from 1% to near 0%. Unfortunately, mortgage rates do not move in tandem with the Fed Funds Rate. When a mortgage lender offers a rate lock, they expose themselves to risk if the rate were to change, forcing them to buy down the rate promised to the borrower. To offset this risk, mortgage originators hedge by shorting Mortgage Backed Securities (betting they go down). This removes the risk of floating rates during the lock period, but in turn, created a new risk (below).
To provide funding and liquidity to the strained Mortgage-Backed Bond market, the Federal Reserve is buying astonishing amounts of Mortgage Backed Securities. With the additional price support provided by the Federal Reserve, the price of Mortgage Backed Securities is going up sharply. So, not only have lenders created hedges for rate locks that are now broken, but they are also suffering huge losses in their short hedge positions.
While the Fed believes they are stimulating lending, their actions are resulting in the exact opposite. The market for Government Loans, Jumbo Loans, and loans that don't fit ideal parameters, have all but dried up. And many Lenders have no choice now but to slow their intake of transactions by throttling mortgage rates higher and by reducing the term that they are willing to guarantee a rate lock.
We are constantly looking for new trends and data to give our clients an edge when it comes to buying or selling their next home.
If you or someone you know is thinking about making a move and would like help navigating this market, we would like to extend the invitation to talk to our team.