Phoenix Area Market Summary – Beginning of 2020
arted a new monthly Market Summary series for our clients to keep them updated on the ever-changing Phoenix real estate market. While this is just a general overview of the current market with a little bit of outlook, we are also happy to provide more local and detailed insight into your neighborhood upon request.
The current situation regarding the overall lack of supply is simply remarkable and has been the biggest story in real estate over the last 6 months. Phoenix is currently the strongest housing market among large-cities in the USA, the largest factors being inter-state population movements; retirees are a big part of that, as are people moving here from California and other Western states for employment and lower cost of living. As long as the local economy continues to grow, with new and large employers establishing roots and expanding in the Phoenix Valley, demand is likely to remain healthy despite the rising prices.
Phoenix Area Market Stats
Here are the current market stats for January 1, 2020 compared with January 1, 2019 for the entire Phoenix Area:
Active Listings: 12,141 versus 17,339 last year – down 30.0%
Pending/Under Contract: 7,539 versus 6,301 last year – up 19.6%
Monthly Sales: 7,764 versus 6,457 last year – up 20.2%
Monthly Average Sales Price per Sq. Ft.: $179.92 versus $165.21 last year – up 8.9%
Monthly Median Sales Price: $289,500 versus $260,500 last year – up 11.1%
The Greater Phoenix Area saw a 30% decline in active listings since this time last year, reaching the lowest levels since 2005. This to satisfy a population growth of 20%+ since 2005. At this point, it has become a game of supply and demand, and anyone who thinks this severe of a shortage will not result in a significant rise in prices is likely going to be very surprised. The median sales price for the Greater Phoenix Area is up 11% over the last 12 months and the average price per square foot is up almost 9%. We are grasping at straws here to find something indicating a little cooling in the market, with the local economy and employment on a tear, it will take major national and global economic headwinds to put a damper on housing.
Buyers looking for their opportunity to get in the game are hoping for a surge in new listings in the first quarter of 2020, and will need to be prepared to offer aggressively on homes they love. On the other hand, Sellers will be seeing higher sales prices in their neighborhoods, tempting them to take advantage of the situation.  The primary question is whether we will see any change in the meager supply of homes for sale. If this is to take place, we will likely begin to see the signs over the next few weeks. There has been no sign of an improvement in new listing flows in the last several weeks of 2019. But the turn of the year always brings new sellers, so we will be watching closely for signs of change.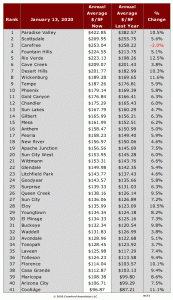 An agent who understands the market will make a difference in your transaction. If you or someone you know is thinking about making a move and would like help navigating this market, we would like to extend the invitation to talk to our team. We hope you've found this market update useful, and look forward to the opportunity to work with you in the future.
Sincerely,