Prices are HIGH! Housing Bubble 2020?
Maybe not. Let's take a look at some charts and see why it's important to read past the headlines.
Average Home Price
Home prices in the Phoenix Valley are now roughly 13% higher than the last peak in prices in 2006. When you take a look at how we got there, this seems a little concerning. A key thing to note: take a look at the appreciation curve from 2003-2005, and how much steeper it is than the recent appreciation we've experienced. With the Federal Reserve pledging to keep interest rates "lower for longer", we may yet see parabolic price growth again, but we are not there yet.
Average Home Size
If we take a look at the size of homes sold, which includes more and more larger and newer homes as time goes on, we can see that the average home size has also risen notably since 2005-2006 during the last peak in prices. To put things in perspective, the average home size has risen roughly 14% since that peak.
Average Sales Price per Foot ($/ft)
If we take a look at the average sales price per foot, arguably the most important metric for market comparisons, we are roughly abreast with the former peak in late 2005. This might be what you would expect if you have home prices and home sizes increase by the same amount and for evidence you are right, you'd look to their prices per foot, which are back at the same level they were in 2005-2006.
Home Prices Adjusted for Inflation
When comparing home prices over longer periods of time, it's important to remember to adjust for inflation during calculations. We do this to create an apples to apples to comparison. What we see is that on an inflation-adjusted basis, Phoenix home prices still have approximately 10% more to go before prices reach 2005-2006 levels relative to inflation, which means we still have quite a bit of catching up to do, especially with inflation running hot per the Federal Reserves new arrangement. 
Why Is This Time Different?
The Phoenix area has come a long way since the early 2000's, with a much more diverse workforce and increasing corporate interest for both production and headquarters campuses. The Phoenix Valley now has more tech employees than Los Angeles and Chicago, and companies such as Amazon, Intel, and Google have set their sights on growth here. These are major fundamental drivers for population and economic growth here in Phoenix, and should not be underestimated.
Below are a few charts outlining the diversity of the Phoenix area workforce for the last 20 years. What the charts show is a regional economy that is much more focused on the Financial Services, Education and Healthcare, and Professional Business Services sectors. What they also show is an economy that is far less reliant on the Construction sector, and less so on Manufacturing as well. Phoenix's economy has developed into a more self-sustaining creature, exporting less and converting more labor output towards localized growth.
Construction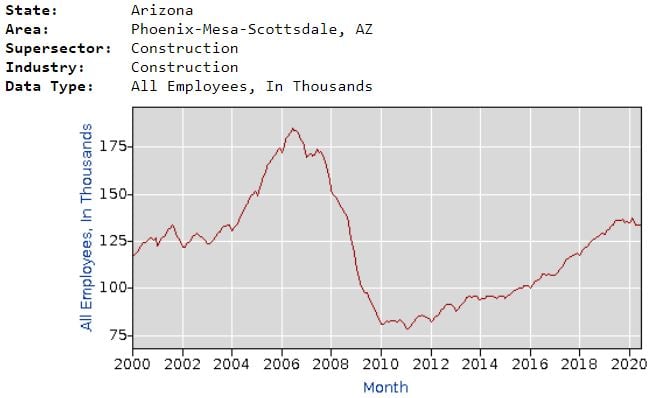 Manufacturing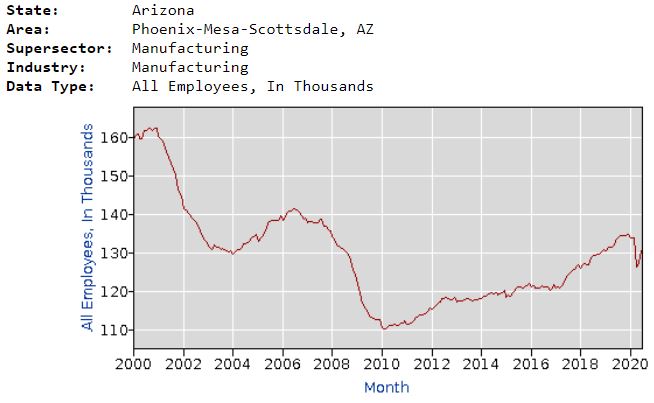 Financial Activities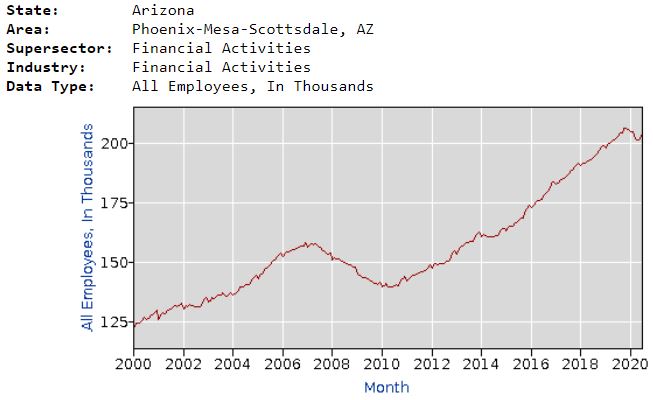 Education and Health Services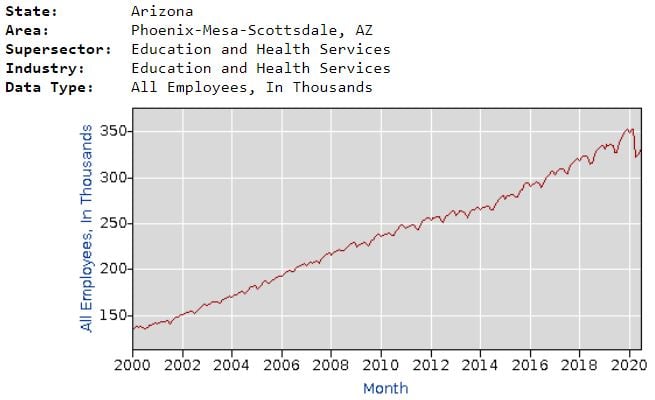 Professional and Business Services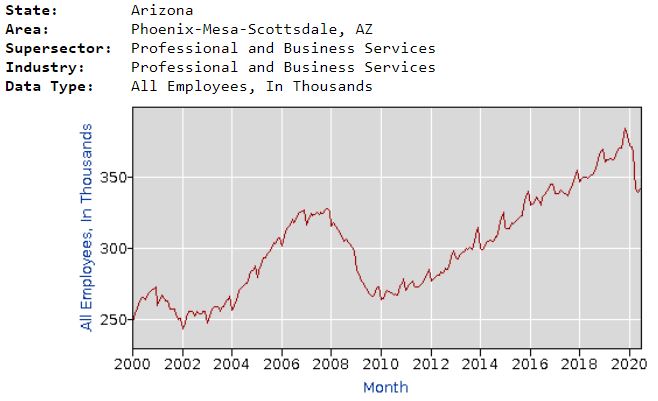 I try not to bore you with the details, but these are the things that fundamentally drive an economy, and thusly wages, and lastly home prices. To sum things up, below is a chart of the Phoenix areas Gross Domestic Product over the last two decades. As you can see, we have only recently broken through our prior peak in ~2015. One could argue that global corporate interest in Phoenix is beginning is going through a revival period, with pro-business local governments and a potent labor force ready to take up the charge.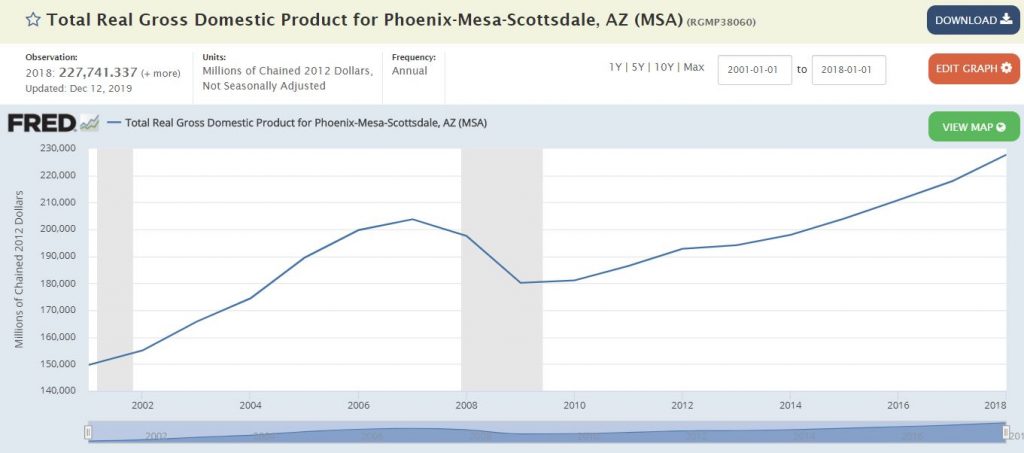 Sources:
Local Real Estate Data by The Cromford Report