Charlotte, North Carolina-based Crescent Communities plans to develop a high-density luxury apartment complex on 8.6 acres it bought in the mixed-use Val Vista Square commercial development in Gilbert. The apartment complex, to be called Novel at Val Vista, will be the first in the town of Gilbert's new multifamily, high-density zoning district. Construction on the 317-unit development at the southeast corner of Val Vista Drive and Pecos Road is expected to start in early 2021.
Lane Neville and Logan Crum of NAI Horizon represented the seller, Cleveland, Ohio-based Park Corp., in the $7.5 million land transaction.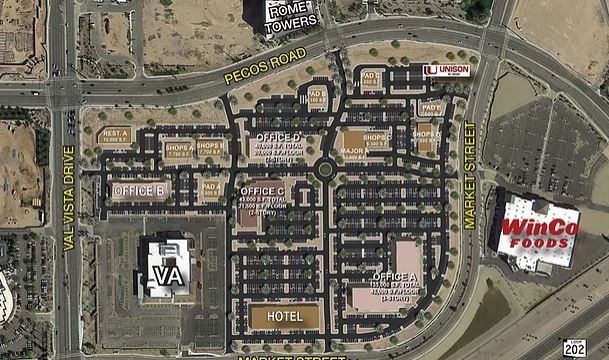 "Crescent Communities is top tier and will be building one of the finest luxury apartment properties in the entire Southeast Valley," Neville said in a statement. "The addition of this high-end residential component is a critical milestone for our overall commercial mixed-use project. This deal is such a nice addition to Val Vista Square and complements the soon-to-be grand opening of Aldi grocery store located adjacent to the Novel community."
The 4-story apartment complex will include a luxury pool, sky lounge and fitness center among its amenities. It will be built adjacent to the Aldi store, which is planned to open in January, Neville said.
A WinCo Foods store and a VA Clinic are already constructed at Val Vista Square.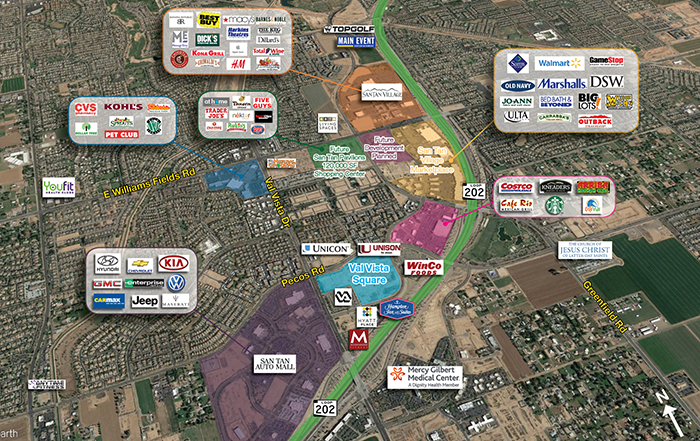 As for the rest of Val Vista Square, Neville told the Business Journal that the owners are in discussions with a developer for medical office space and in discussions on some of the retail and restaurant pads. In early 2020, they were nearing a deal for a 6-story hotel, but the novel coronavirus pandemic halted any further action for the hospitality piece.
"This is kind of a special piece," Neville said. "In Gilbert, they don't have hardly any commercial properties with height by right, but we do."
Val Vista Square is entitled for two, 10-story office buildings on one corner, and the remainder of the 32-acre site is zoned for building up to six stories in height.
"This transaction is a major milestone for our property, as Crescent Communities' Novel Val Vista brings the critical living component to our project and achieves our vision of creating the finest mixed-use community development in Gilbert," Park Corp. representative Morgan Neville said in a statement.