Phoenix Real Estate Update – August/September 2020
The reopening of Arizona's economy has been well underway for some time now, and the Phoenix housing market has been, for lack of a better phrase, absolutely on fire for the last 3 months. The slowdown in real estate activity that we typically see in late summer never happened, instead, we experienced one of the strongest month's of August in Phoenix real estate market history. Make sure to read the extra stories (blue links)!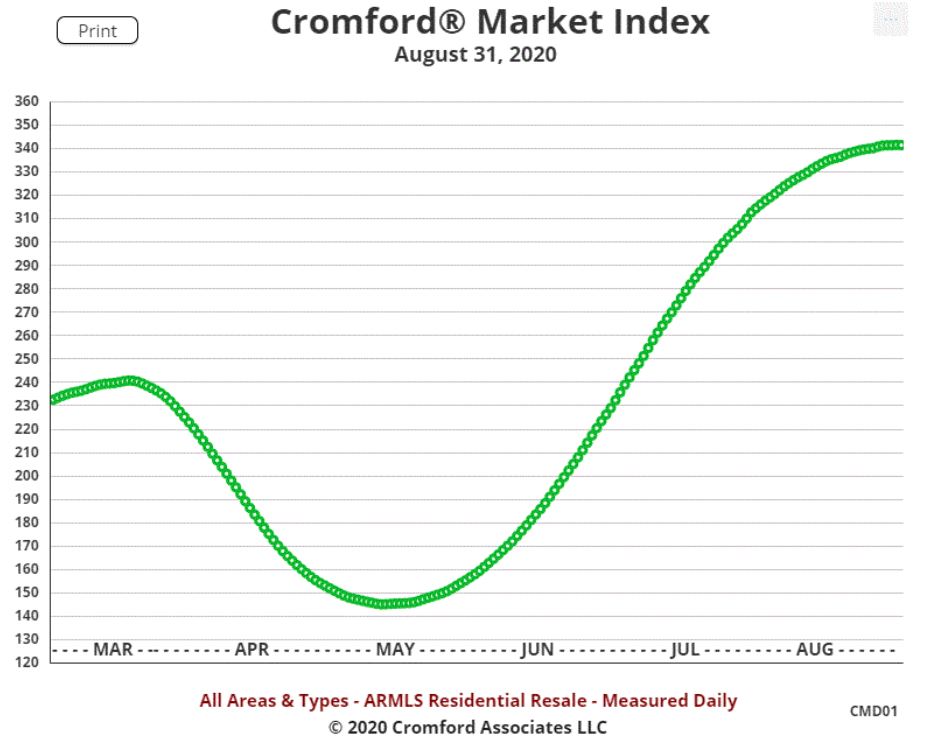 Home Valuation | Market Check | Property Search
So What's Going On?
As evidenced by the chart above, The Cromford Market Index is finally leveling off. The Cromford Market Index represents the balance of supply and demand in the Phoenix real market, rising when demand is higher than supply.
The number of homes for sale went up dramatically during the outbreak of the coronavirus in the United States in mid-March, as people rushed to list their homes thinking the economy would crash and the real estate market would soon follow.
This has turned out not to be the case, and a combination of federal stimulus, lower mortgage interest rates, and increased immigration to Phoenix has sparked a huge wave of buyer interest, sending the number of homes for sale plummeting.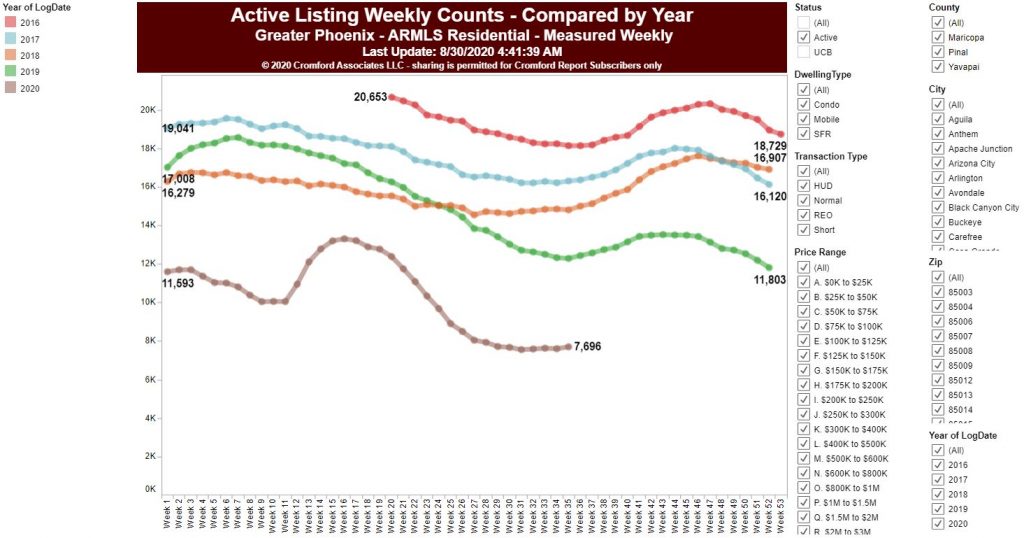 We are eager what the next two months will bring. We are hoping for more new listings to take some of the stress out of the market, especially watching the $500,000 and below range where housing supply is desperately needed.
So What's Going To Happen?
If we continue to see supply dwindle or stay where it is (less than 9,000 homes for sale), the Cromford Market Index will start rising again, and prices along with it. This is due to increased buyer traffic and therefor demand during the fall season, and if there are fewer homes for sale, more buyers will compete for the same homes, driving up home prices. If this scenario occurs, it will likely continue until early December when we start approaching the holidays.
If we begin to see supply come back stronger than demand, and Active Listings begin to rise, price gains will slow. Eventually and inevitably, this will happen, likely over a span of several months, and price gains will stabilize to the traditional 4-5% annual appreciation. However, one important note; even with 45% more homes for sale in January of this year (pre-Covid), home prices in the Phoenix area were still rising approx 8% per year. 
Prices are HIGH! Housing Bubble 2020?
Maybe not. Let's take a look at some charts and see why it's important to read past the headlines. Read more here.
New Federal Reserve Inflation adjustments are causing a bit of a stir in both financial and housing markets… To read this mini-excerpt, click here.
Breaking Down the Local Data
Market Stats for September 2, 2020, compared with August 1, 2020
Active Listings: 7,992 vs. 8,477 – 

down 5.72%

Pending/Under Contract: 7,947 vs. 7,965 –

down 5.26%

Sales per Month: 9,521 vs. 10,543 – 

down 9.69%

Monthly Avg. Sales $/Ft.: $195.10/ft vs. $191.16/ft – 

up 2.06%

Active Listings $/FT: $262.06/ft vs. $256.23/ft – 

up 2.28%

Monthly Median Sales Price: $315,000 vs. $306,000 – 

up 3.17%

Days on Market: 49 days vs. 50 days – 

down 0.39%
$/Square Foot for Major Cities in Phoenix, September 2 compared with August 1, 2020:
Avondale – $142.92/ft vs. $140.92/ft – 

up 1.42%

Buckeye – $143.69/ft vs. $144.04/ft – 

down 0.24%

Chandler – $194.79/ft vs. $189.67/ft – 

up 2.70%

Fountain Hills – $238.62/ft vs. $259.53/ft –  

down 8.06%

Gilbert – $185.80/ft vs. $185.58/ft – 

up 0.12%

Glendale – $168.87/ft vs. $167.74/ft – 

up 0.67%

Goodyear – $158.82/ft vs. $157.93/ft – 

up 0.56%

Mesa – $181.77/ft vs. $182.97/ft 

– 

down 0.66%

Paradise Valley – $434.03/ft vs. $444.84/ft – 

down 2.43%

Peoria – $184.49/ft vs. $173.39/ft –

up 6.40%

Phoenix – $206.66/ft vs. $201.96/ft – 

up 2.33%

Queen Creek – $160.06/ft vs. $154.77/ft –  

up 3.42%

Scottsdale – $306.16/ft vs. $299.80/ft – 

up 2.12%

Surprise – $154.08/ft vs. $153.55/ft– 

up 0.35%

Tempe – $211.97/ft vs. $213.94/ft – 

down 0.92%

OVERALL MARKET: $204.85/ft vs. $204.71/ft– 

up 0.07%,  1/2020: 7.15%
Want to know more about a specific Zip Code or City?
Months of Supply
The chart below shows the number of homes for sale in terms of how many months of inventory is on the market based on last month's sales count (active listings divided by sales). The Phoenix real estate market typically has around 3 and 4 months of supply depending on the time of year. Most of the price ranges are now at half their normal supply levels, or worse.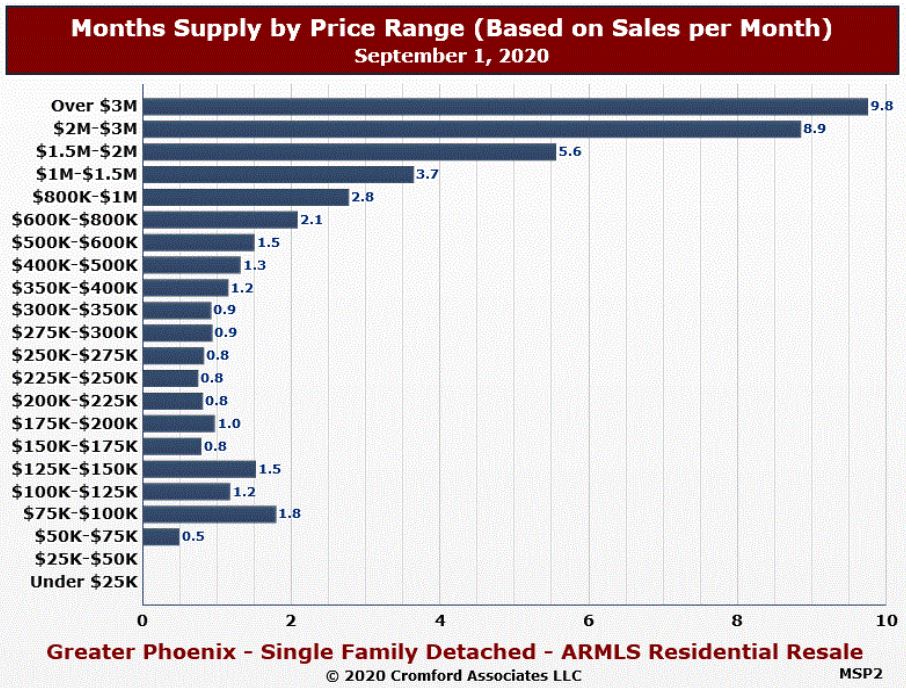 Since May 2020, the most popular price ranges have fallen:
$1,000,000-$1,500,000: down 44%
$800,000-$1,000,000: down 42%
$600,000-$800,000: down 51%
$500,000-$600,000: down 50%
$400,000-$500,000: down 43%
$350,000-$400,000: down 45%
$300,000-$350,000: down 55%
This is unfortunately leading to many buyers experiencing something like this…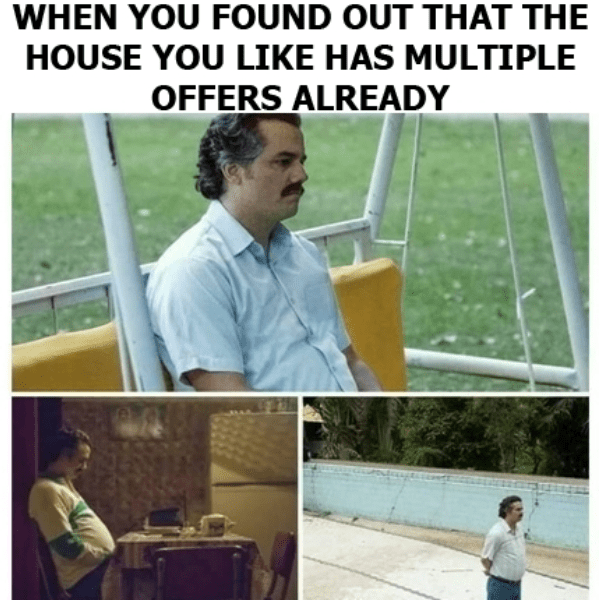 Our Advice
BUYERS: Active Listings across the Phoenix valley fell nearly 10% in the last two months, and if you're a buyer up to around probably feeling it all the way up to $1,000,000. Listings priced below $400,000 are seeing upwards of 10 offers and are often closing above asking price. Supply/demand seem to be reaching an equilibrium based on the Cromford Market Index Chart above, but prices will likely continue to rise unless new listing counts sstart to rise in a consistent manner. Most of our advice remains the same:
Avoid waiving appraisals! Instead, our team can help you use and advanced strategy that protects the buyer in the event of a low appraisal.  Our team has successfully won several multiple-offer situations with this strategy, when others were not willing to waive appraisals. 
Offer aggressively on properties they find attractive, especially if you cannot wait. The smallest and least expensive properties selling for high comparable values right now, and pricing averages will likely continue to rise for the foreseeable short tem
For those who can afford to be patient, but need to start the process somewhat soon, it is starting to look like as stock market volatility and the Federal Reserve's new dedication to low federal funds rates should keep mortgage rates low until at least the end of the year. 
SELLERS: Much of our advice from the last report remains the same, as supply/demand appear to be reaching an equilibrium.
Price your home competitively and watch multiple offers roll in. Price in-line with comparable sales, and you'll be able to accept the strongest of a few offers.
Cash and conventional offers are the best right now, as we are starting to see FHA and VA appraisals come in low, and those appraisals stick for a minimum of 120 days.
Watch out for buyers with low cash reserves, who won't able to make up the difference of a low appraisal.
If you or someone you know is moving soon, we want to help!
If you have any questions or concerns about the current state of the housing market, or if you would like to discuss the situation presented by the coronavirus or economic outlook, please don't hesitate to give me a call directly at 480-712-8722.