Phoenix Real Estate Update – October 2020 🎃
Last month we featured this same chart of the Cromford Market Index after it just finished its parabolic rise;, if you missed it you can see it here: Phoenix Real Estate Update – August/Sept. The situation remains largely the same. Supply is still very low, 60% below normal, but starting to rise. Demand is also picking up as the summer cools off. Bidding wars and multiple offer situations are now common-place throughout the market.
Many market analysts expected to see a sharp decline in the Cromford Market Index after such a sharp rise, but a persistent lack of supply (approx. 8,000 homes) continues to support the index. As Covid-19 lockdowns began to hit hard in April and May, many homeowners pulled their homes from the market or decided not to list their homes, creating a lack of supply. Buyers initially pulled back as well, but then lower interest rates boosted demand to 20% higher than normal, creating bidding wars that have driven up prices.
What does this mean? We expect the Cromford Market Index, and thusly prices, will continue to rise until we get closer to roughly 10,000 properties actively for sale, but the real question is whether or not that happens before Thanksgiving, when listing counts seasonally start to fall. The Presidential Election certainly plays into this, we'll discuss that below.
Prices tend to lag any changes in the Cromford Market Index by about one year, so we will be watching this chart closely for signs of future housing market weakness.
Local & National Headlines
AZ Jobless Claims Rise Again – more than 90,000 Arizona residents received unemployment benefits last week according to the latest reports, the third week of increases in a row. Of those, 92% of claims paid went to self-employed or contract-employment workers. The total amount of unemployment benefits being paid fell significantly since last week as aid from the federal government ran out, from $318 million to $176 million. https://www.azpm.org/p/home-articles-news/2020/9/23/180690-unemployment-claims-continue-to-grow/
Phoenix Home Price Gains – Home price gains in the Phoenix area continue to outpace the rest of the country, nearly doubling the national average according to the latest data from S&P CoreLogic Case-Shiller Index. Local residents are well-aware of the situation, with bidding wars now commonplace. Case-Shiller's data arrives about a month late, so expect to see similar price gains in next month's data. https://www.bizjournals.com/phoenix/news/2020/09/29/phoenix-home-price-growth-leads-nation.html
Lackluster October Payroll – The latest data on the national employment situation, the last before the Presidential Election, indicates that 660,000 jobs were created (or restored) in the month of September, short of the 800,000 expected. The National Unemployment rate improved, notching in at 7.9%, better than the 8.2% expected. https://www.cnbc.com/2020/10/02/jobs-report-september-2020.html
Breaking Down the Local Data
Market Stats – October 1, 2020, compared with September 1, 2020
Active Listings: 8,733 vs. 7,992 – up 9.27%***
Pending/Under Contract: 7,957 vs. 7,947 – up 0.13%
Sales per Month: 9,527 vs. 9,521 – up .06%
Monthly Avg. Sales $/ft.: $200.33/ft vs. $195.10/ft – up 2.68%
Active Listings $/ft: $266.44/ft vs. $262.06/ft – up 1.74%
Monthly Median Sales Price: $328,000 vs. $315,000 – up 0.92%
Days on Market: 44 days vs. 49 days – down 10.82%
$/Square Foot – October 1, 2020 compared with September 1, 2020
Avondale – $150.98/ft vs. $142.92/ft – up 5.34%
Buckeye – $148.27/ft vs. $143.69/ft – up 3.09%
Chandler – $197.11/ft vs. $194.79/ft – up 1.18%
Fountain Hills – $243.85/ft vs. $238.62/ft –  up 2.14%
Gilbert – $192.59/ft vs. $185.80/ft – up 3.53%
Glendale – $172.54/ft vs. $168.87/ft – up 2.14%
Goodyear – $161.73/ft vs. $158.82/ft – up 1.80%
Mesa – $184.62/ft vs. $181.77/ft – up 1.54%
Paradise Valley – $402.54/ft vs. $434.03/ft – down 7.82%
Peoria – $183.18/ft vs. $184.49/ft – down 0.72%
Phoenix – $213.26/ft vs. $206.66/ft – up 3.09%
Queen Creek – $162.25/ft vs. $160.06/ft –  up 1.35%
Scottsdale – $302.90/ft vs. $306.16/ft – down 1.08%
Surprise – $157.37/ft vs. $154.08/ft– up 2.09%
Tempe – $216.24/ft vs. $211.97/ft – up 0.54%
OVERALL MARKET: $205.96/ft vs. $204.85/ft – up 0.54%
Supply Time of Year
The Phoenix real estate market tends to move based on seasonal trends, with the lowest amount sales and listing activity typically occurring in the summer and winter months, with the fall and spring being the busiest times of the year.
What we're seeing is that supply is starting to creep up, our latest reading is up nearly 10%. But still, new listings are still sluggish. Much of what we are hearing from clients is they are waiting until uncertainty around the Presidential Election fades. What we know historically is that Presidential Elections have little impact on housing markets, though we do know it causes consternation and apprehension amongst home buyers and sellers, and likely further restrict new listings until clearing.
There are murmurs of a Biden Tax Credit for first time home buyers, but any benefits from this will almost certainly be eaten up by a gain in housing prices or a rise in interest and mortgage rates before the election (we're already seeing this!). Additionally, many homeowners who took a similarly structured tax credit during the last Financial Crisis ended up a bit sour as they paid back the credit monies for many years after via their Federal Income Taxes. https://www.irs.gov/taxtopics/tc611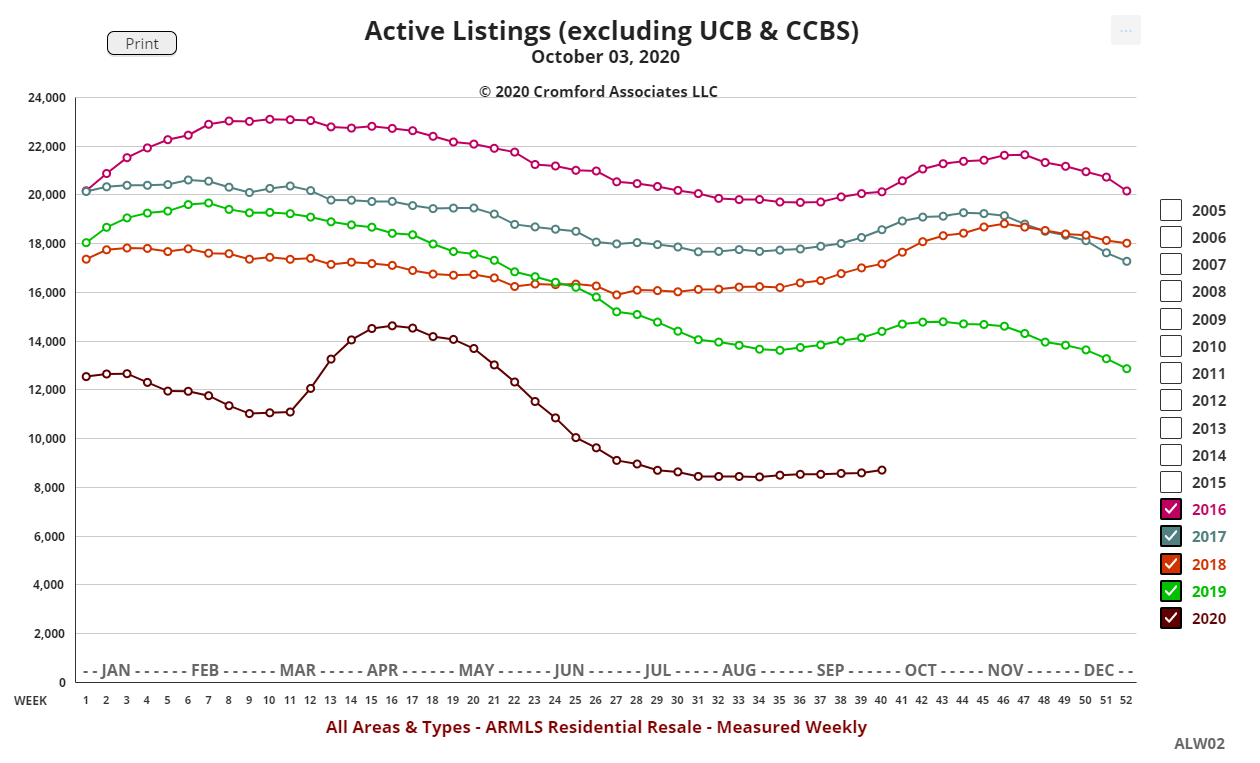 Week 36 and 37 (first weeks of September) are seasonally when the number of homes starts to rise. This seasonal rise continues steadily until around Week 46 (right before Thanksgiving), when the supply of homes for sale starts to fall as homeowners decide to list after the holidays. We are currently in Week 40, a month after supply usually starts to rise, and we have only just now started to see an increase in the number of homes for sale. 
This is concerning, as a shortage this large will be tough to make up, which means fewer homes for sale and a tougher time for buyers. It also means more short-term price gains are likely for current homeowners
They Paid How Much?!?!
No we aren't kidding you, and we wish this weren't the case. To paint a picture of what's going on right now in the market, take a look at the chart below. Please note that this chart shows us that 1/3 (35%) of homes are selling above asking price, it does not mean that homes are selling for 35% above asking price, an important distinction.
Below is a breakdown of price ranges and what percentage of homes in that range are selling for above-asking price. For homes listed for $400,000 or less, nearly half sell for above-asking price, and for buyers who are shopping in this range, this probably a bit personal. The good news is that we are starting to see more supply come to the market, whether or not that holds up is yet to be seen.
Something we don't often see is that 1 in 8 homes priced between $1 million – $2 million are selling for above list price. This shows us is that buyer interest is strong not only in the middle of the market, but also in the luxury sectors, a strong sign for future price growth in all price brackets.
Causes for this are two-fold: property prices have risen and thusly more homes are priced above the million-dollar mark, and on the other hand, we have a relatively strong US Stock Market (historically linked to luxury real estate performance) and corporate and tax-related relocation from higher cost of living parts of the country.
Condo Supply Outpaces Homes
The available supply of condos/townhomes/patiohomes is rising much faster than that of single-family homes. This is less a function of how many are being listed, and more a function of how many are being purchased. In other words, the issue being restrictions on buyer demand, namely FHA financing restrictions.
We acknowledge that the situation with Covid-19 has likely changed buyer's perspectives of where they want to live, but in a supply crunch such as the one we are facing, that reason alone doesn't account for the increased inventory we're seeing in the condo market. We believe the issue lies in the fact that many buyers of condos, patiohomes, and townhomes utilize FHA financing in order to leverage their buying power.
The problem with FHA-backed purchase is that the condo complex in which the unit resides is required to be approved by the FHA on a number of criteria Conventional Loans are not subject to; things like single-owner outsize ownership, HOA budget and reserve stability, and more.
In addition, all FHA appraisals "stick" to the property for 4 months, so if an appraisal on an FHA offer comes in low, the owner is stuck either holding the property or selling at that price. This disincentivizes homeowners to accept offers from buyers who are backed by FHA loans, and is artificially restricting demand in the lower-priced condo sector.
The Bottom Line: Our Advice
BUYERS: Active Listings are starting to rise, albeit much slower than in years past. There are just over 8,700 Active Listings, still roughly half of what we normally see this time of year.
Avoid waiving appraisals! Instead, our team can help you use and advanced strategy that protects the buyer in the event of a low appraisal.  Our team has successfully won several multiple-offer situations with this strategy, when others were not willing to waive appraisals. 
More supply appears to be on the horizon, but we are anticipating sluggish listing counts until the Presidential Election, potentially through Thanksgiving, with a boost in supply before the end of the year (a contrarian bet based on seasonal trends).
Interest Rates are rising. This directly affects the size of your monthly payments on the same home, and also directly affects how much you can pay for the same home. Watch interest rates carefully!
SELLERS: Supply is showing signs of starting to rise. With that said, there are still very few homes for sale. There is still fierce competition for quality properties, but buyers are starting to be pickier as they see more homes come on the market in neighborhoods they are interested in. 
Price your home competitively, doing so will result in a multiple offer situation, giving you the best chance to get the highest price. 
Look for buyers with HIGH cash reserves, who are able to cover the difference in a low appraisal.
Cash and conventional offers remain strongest, as we are starting to see FHA and VA appraisals come in low, and those appraisals stick with the property for a minimum of 120 days.
If you or someone you know is thinking about purchasing real estate, please contact me!
If you know someone who we can help, please forward them one of our monthly reports or tell them to give us a call! We hope you've found this market update useful, and look forward to the opportunity to work with you in the future. If you have any questions or concerns about the current state of the housing market, or if you would like to discuss the situation presented by the coronavirus. please don't hesitate to give me a call directly.
Look for our report next month!
Sincerely,
Riley Bishop
REALTOR ® – The Sibbach Team